IN THE NEWS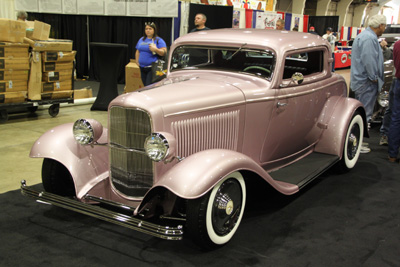 2017 Grand National Roadster Show
Every January, we head to Southern California for the Grand National Roadster Show. This year we showed six projects that were recently finish by the talented guys at RBSR's. This year's groups were all award winners.... Read more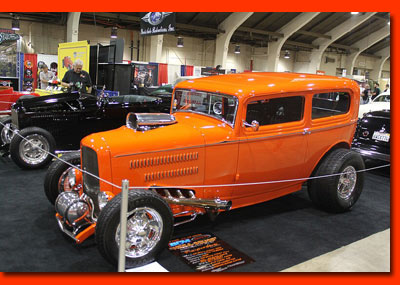 2015 Grand National Roadster Show
Once again, Brizio Street Rods had a number of new projects on display in Pomona. Getting six hot rods 400 miles south is no easy task. However, Ricky is the man when it comes to hauling. This is possibly the only time... Read more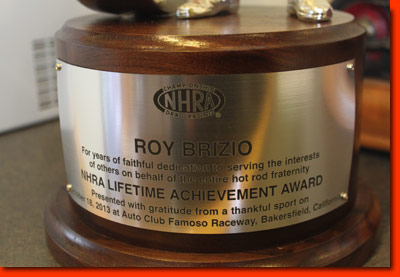 At the 2013 CALIFORNIA HOT ROD REUNION, Roy was presented with the NHRA's Lifetime Achievement Award. Roy has been dedicated to the sport of hot Rodding almost all his life, where he started out working at his dad's speed shop as a teen. At twenty he opened Roy Brizio Street Rods where... Read more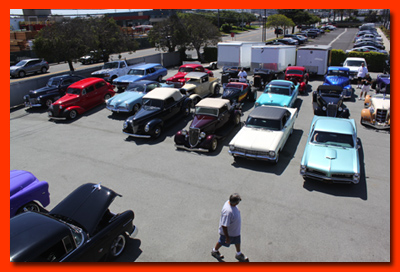 GOODGUYS VISITS ROY BRIZIO STREET RODS
The 27th Annual West Coast Nationals were held in Pleasanton CA over the last weekend in August. During the week of the event, The Goodguys puts on tours to various shops around the Bay Area. This year they stopped by Brizio's to catch up on our latest projects. The visitors were treated to lunch and the run of the shop... Read more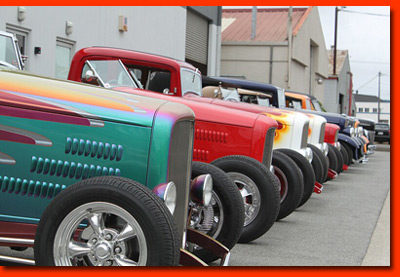 Deuce Days 2013
Every three years Victoria BC hosts DEUCE DAYS, a celebration of, but not limited to 1932 vehicles. Brizio Street Rods was the starting point for 15 of those cars heading north. Roy's claim to fame is building cars that can be driven almost anywhere. Case in point, most of the cars pictured were built at Brizio's. You can add a number of others as they hook up with those leaving from other parts of the Bay Area. The trip will make stops in Redding CA and Portland OR before they get to Canada... Read more

2013 Grand National Roadster Show
WE HAVE A WINNER!
The 64th Annual GRAND NATIONAL ROADSTER SHOW was held the last weekend in January. For hot rodders, this is the World Series and Super Bowl rolled into one. The "Team Brizio" built 27 Track Nosed Roadster for John Mumford was crowned
"AMERICAS MOST BEAUTIFUL ROADSTER" for 2013... Read more
2012 Grand National Roadster Show

Since the 2011 Grand National Roadster Show, we have been very busy here at Brizio Street Rods. With some of the projects in progress and a couple starting new, the goal was to finish seven new entries for the 63rd Annual GNRS. As you can see from the photos, the variety is wide spread. While all seven placed very well in their classes, there was one SPECIAL award that was given to Eric Clapton's 1932 four door Vicky, the Al Slonaker Award. Read more
Roy Brizio Street Rods is finishing the year with a bang. The Grand National Roadster Show is coming in January, and we are finishing
up seven new cars for the show. Each year we burn the midnight oil to make sure our customers can take part in the most prestigious
hot rod and custom show in the land. This year we have quite a selection of vehicles. Read more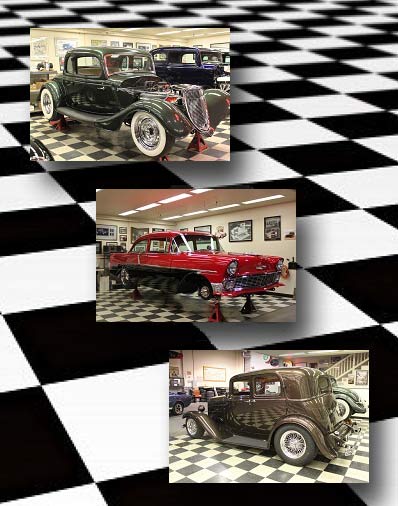 In August, John Mumford and Roy visited the salt flats for the second time. Their goal was to up their license to 175 MPH. They both achieved their goal by eclipsing 177 MPH. And they did it with no mishaps, like the door opening at 160 MPH as it did on Roy last year. John's coupe ran great. There was an interested spectator in their pits, famed funny car driver Ron Capps. As you can tell from the pictures, he looks right at home behind the wheel, and judging from the look in his eyes, you will see his name again at Bonneville.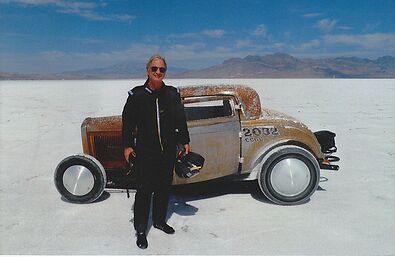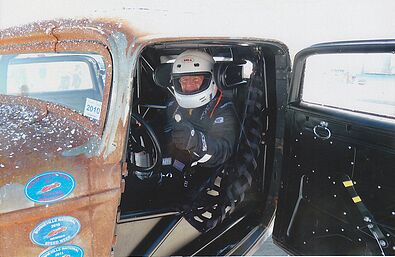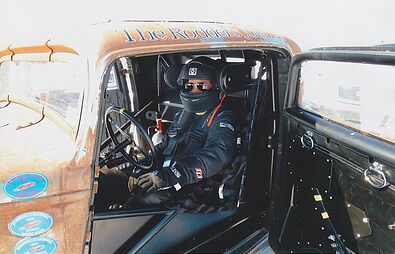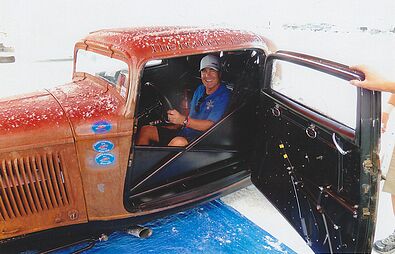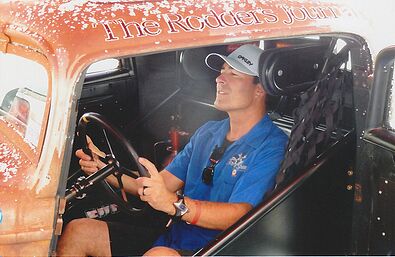 ---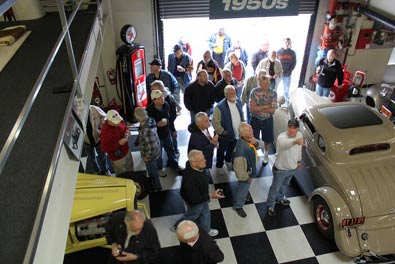 MICHIGAN STREET ROD ASSOCIATION VISITS BRIZIO STREET RODS
Click here


John Mumford's CGC Class Coupe
Running at Bonneville

In 2008 John Mumford made his first trip to the Bonneville salt flats as a spectator. It was a fun adventure accompanied by long-time friends Steve Coonan and Roy Brizio that have stayed with him to this day. When Brett Reed's chopped 1932 3-window became available in 2009, John jumped at the opportunity to purchase the cherry, bare-metal, original Deuce coupe. The purchase was made on the sole basis that the car was a nice solid Deuce body. Initially, he had no intention of turning this into a Bonneville race car, but then like so many people before him, John got salt fever. The decision was to use his newly purchased Deuce coupe as the platform for a new salt car.

As chief instigator to this whole affair, Roy Brizio and his crew started work in earnest. The coupe had already been chopped. A full roll cage was put in place along with a 371 cid smallblock Chevy motor, Tremec five-speed transmission, and Halibrand V8 quickchange. Rolling stock consists of 15x6 and 18x6 steel wheels from Stockton, and Goodyear front runner tire with M/T racing rubber in the rear which all is nicely complimented by spun aluminum moon discs.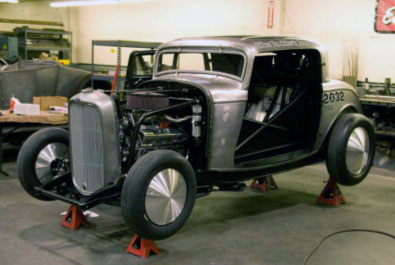 This is the car the day before the guys left the South San Francisco based shop headed for Wendover, Utah. One of the last things on the list for the crew was to pin the driver's side door in place.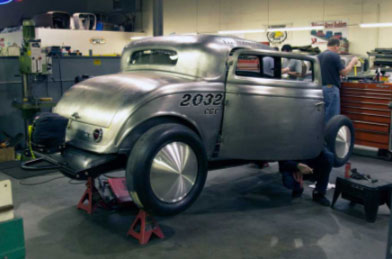 The 2032 coupe was entered into the Classic Gas Coupe class. A Jack Stratton built chassis is the foundation for which the chopped three-window is perched. Stock door and trunk handles, along with '50 Pontiac taillights keep it within its class.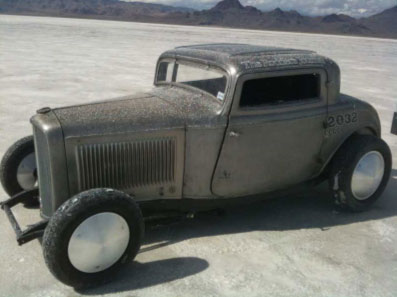 The boys arrived at the Bonneville salt flats on early Wednesday morning to less than perfect conditions - high winds, threatening clouds with a chance for rain and multiple course changes. The adventures had just begun.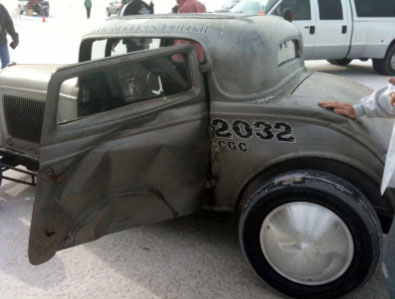 Uh-Oh! Due to unforseen circumstances, John Mumford didn't arrive to the salt until Wednesday evening. Therefore, the driving chores were passed over to veteran hot rodder, Roy Brizio. Right around the 160+ mph mark, the suicide door's latch rattled loose and the door peeled back smashing into the rear tire and quarter panel. "I just happened to peek left and noticed a bunch of salt whizzing by, and something inside me said 'this ain't right,'" Roy expressed. Obviously the door was now junk, the quarter panel dented badly and the Moon disc beat up pretty bad, but what's amazing is the M/T racing tire survived.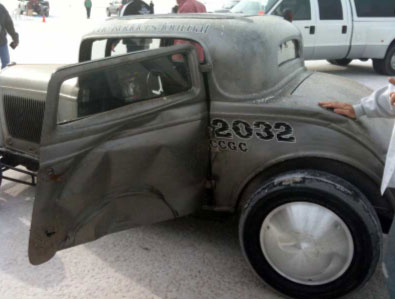 Once safely off the course, a meeting was held with head SCTA official, Mike Cook to determine just what could be done in order to continue racing. After a full technical inspection, the consensus was the coupe was safe to drive with the doors completely removed! We are not quite sure what all of the rules are for this class, but apparently doors are not a requirement.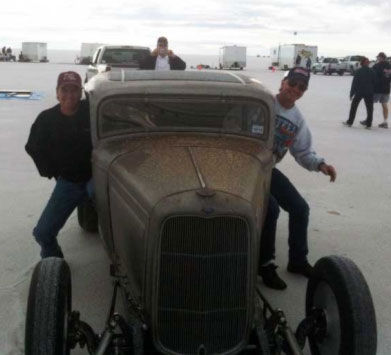 Roy and John enjoying a door-free ride. The whole point of a trip like this is to have fun, and there is no doubt Roy Brizio and John Mumford know how to do it right. The frontend of the coupe consists of a Super Bell 4-inch dropped axle, Pete & Jake's hairpin radius rods and Edelbrock tube shocks. You can see how quickly the sano original Henry Ford steel flashes with rust when exposed to the elements and salt.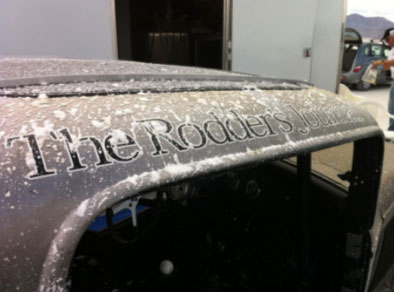 Selfishly, we are extremely thankful John decided to put the TRJ logo on the roof rather than the doors. While not-quite an official sponsor, and unfortunately due to production deadlines, the TRJ staff was unable to make the trip. But thanks to today's technology we have been able to live the experience vicariously through the iPhone lens of Terri Brizio-Hollenbeck and Tom Gloy.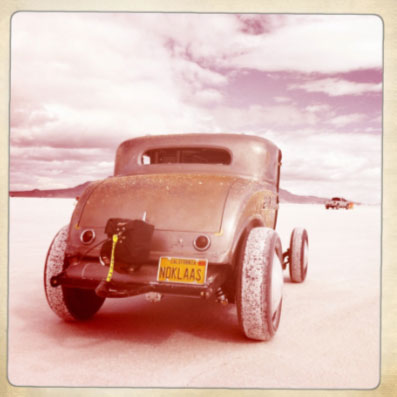 The vast landscape of Bonneville's salt flats, and the picturesque mountain range in the distance combine to create a backdrop that lends itself to beautiful photography that is timeless. This photo could very well be from the 50s, 60s, or later, would it not be for the modern truck in the distance.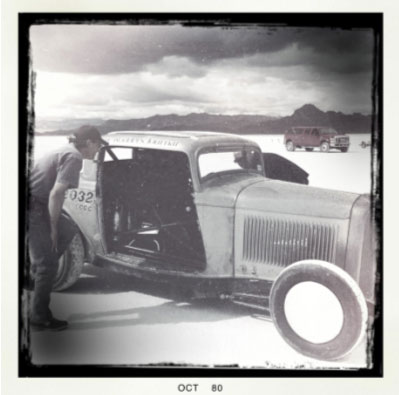 Using the Hipstamatic photo app on her iPhone, Terri was able to capture some very intriguing snapshots that mimic vintage photography. This photo, similar to a poloroid from the late 50s/early 60s, evokes the same feeling of an old scrapbook snapshot.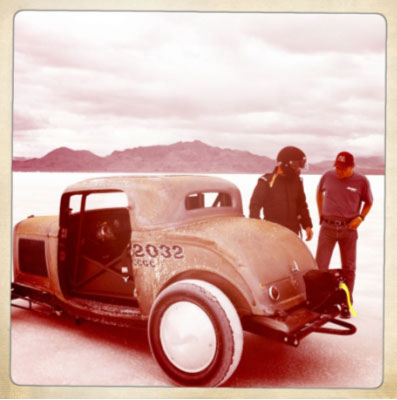 John's initial attempt to acquire his C-class license was shot down when the car unexpectedly shut off halfway down the course. The cause of the problem was narrowed down to a fuel starvation issue. Once remedied, John went up for another pass and ran 148 mph, just shy of the 150 required to obtain his license. Just as we were finishing this email, we got word from the salt that John had ran a 153 acquiring him his C-class license. Congratulations John, mission accomplished.

We will bring you updates of their trip either in the next email newsletter or the next issue of TRJ.

All the best,

From your friends at,
The Rodder's Journal
Copyright (C) 2008 The Rodder's Journal All rights reserved.
---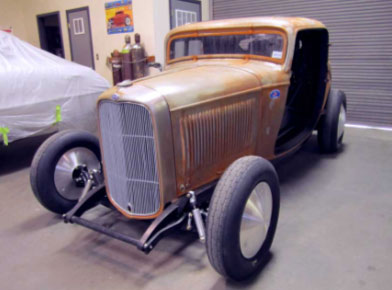 Last week we told you all about John Mumford and Roy Brizio's trip to Bonneville. Now that they are home with the coupe, there will be some major scrubbing and polishing to remove all that rust!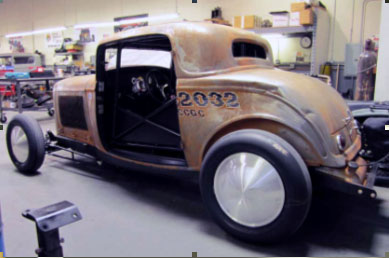 In our initial email, we forgot to mention Dan Hall, who was instrumental in chassis fabrication and getting the car salt-ready. John and Roy had such a memorable time out on the salt with the help of friends including Terri and Darryl Hollenbeck. We'd like to thank them all for sharing their story with us.

All the best,

---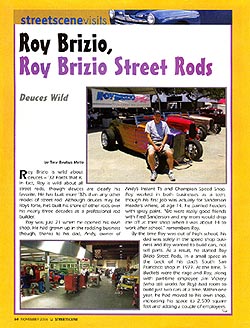 Click on image to read article
Click on image to read article
Click on image to read article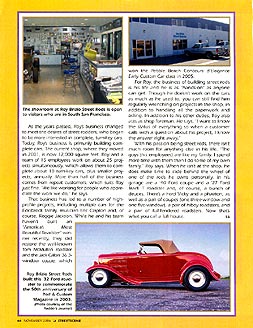 Earlier News
It's a measure of Roy Brizio's single-minded focus that when Reggie Jackson walked into Brizio's shop in 1979 he didn't have a clue who the slugger was. Yes, that Reggie Jackson. Oakland Athletic and New York Yankee Reggie Jackson. Hall of Fame Reggie Jackson. Mr. October Reggie Jackson.
"I was thinking he was some kind of athlete," Brizio remembers.
Ironically, while Brizio was unfamiliar with Jackson, Reggie knew all about Brizio. He was some kind of car builder. Only 23 at the time, Brizio had already established himself as an up-and-coming hot rod builder, and it was suggested to Jackson- a hopeless car buff- that Brizio could perhaps help Jackson put together a car in three months for a car show.
"I remember telling Reggie we couldn't do a car from scratch in that amount of time," recalls Brizio, "but I'd see what we could do. Luckily, I found a customer who was looking to sell a partially constructed '32 roadster, and we managed to get the car completed on time."
Brizio's feat was a portent of thing to come. You see, by the mid-1990's, Brizio had emerged as one of hot rodding's preeminent figures, his nine person shop in South San Francisco building some to the hottest hot rods anywhere. Today, Brizio is to hot rods what Rolex is to watches- a trusted "brand" that exudes quality and style.
In retrospect, it isn't much of a surprise that Brizio turned out this way, not when you consider his background. As they say, the wrench doesn't fall far from the toolbox. Roy's father, Andy, operated a successful hot rod business in the 1960s, capitalizing on the popularity of the T-Bucket. Andy also ran Champion Speed Shop in South San Francisco, peddling performance parts to speed junkies. Within this horsepower-charged environment- Roy hung out at Dad's shop and worked at Champion's parts counter- he learned to love hot rods.
Roy's life almost spun out of control in 1976 when his father sold both businesses and started a tee shirt silk-screening company. Faced with working at the speed shop for a stranger, Roy decided to do what he really wanted: start his own shop and build hot rods. So, at the tender age of 21, Brizio opened the doors to Roy Brizio Street Rods.
While young and inexperienced, the amount of talent and motivation Brizio brought to the endeavor was way beyond his years. He knew how to build really cool hot rods. More importantly, he really knew how to satisfy customers. When Reggie Jackson showed up, Roy may not have known who he was, but he knew how to fulfill Mr. October's desire for a head-turning, reliable hot rod.
And Jackson's desire was indeed satisfied, so much so that he has become Brizio's longest-standing customer. A total of 11 Jackson cars have rumbled out of Brizio's shop over the years. "It seems like there's always a car for Reggie in the shop," Brizio laughs. Brizio's success with Jackson has resulted in other sports and entertainment celebrities beating a path to his shop. His clients have included rock musician Jeff Beck, race driver Hurley Haywood, baseball star Jack Clark, and blues guitarist Jimmy Vaughn. Corporate clients are also drawn to Brizio's craftsmanship and follow-through. He has crafted seven custom vehicles for Ford's Motor Sports Division, and six for performance parts giant Edelbrock.
Brizio's most recent celebrity customer is rock legend Eric Clapton. Referred to him by Vaughn, Clapton wanted something special to motor around in when he was stateside. The result is a spectacular 1940 Ford Coupe powered by a 600-horsepower blown big-block Chevy. While Clapton's hand may be slow, this car is definitely fast.
Why does Roy Brizio Hot Rods attract celebrity customers? More than likely, the same qualities attract all of Brizio's customer: expert craftsmanship, a true hot rod vision, and a commitment to customer satisfaction. "We build solid, reliable hot rods for people who like to drive their cars," Brizio explains. "We're not interested in building museum pieces that some collector just wants to own and look at. We build 'real' hot rods. The vast majority of our customers are regular enthusiasts who just love hot rods and now have the resources to have one built for them."
Regardless of the customer's status, a Roy Brizio street rod is a considerable investment. The shop turns out an average of seven cars per year, costing an average of $80,000 to $125,000. Each car is built to the customer's specifications. Average building time is six months to a year.
With such a lofty price tag, why doesn't someone just go out an buy a Ferrari or Porsche? Why a hot rod? Brizio says the answer is simple. "When people see a guy drive by in a $!00,000 Porsche Turbo, they think 'rich guy'. When they see a guy cruise by in a '32 Ford highboy, they think, 'cool car'. People have no idea what a hot rod costs, they only know they like what they see."
What Roy likes to see are '32 Fords. While his father was partial to T-buckets, Roy has focused much of his business on the deuce - the quintessential American hot rod. Remember, the Beach Boys sang about the little deuce coupes, not little Buick sedans. "My first hot rod was a '32 coupe," he says "followed by a '32 roadster, and that's all I've had since. Our shop can build any type of hot rod, but '32s are my personal favorite."
If you read Street Rodder, Rod and Custom, or the The Rodder's Journal, it'd be easy to believe that the editors' personal favorite is Brizio. Over the years, literally dozens of Brizio-built hot rods have graced the covers of car magazines. Brizio was even commissioned by Hot Rod Magazine in 1997 to build a modern-day version of the publication's first-issue cover car. Pat Ganahl, a former editor of Hot Rod and the current editor of The Rodder's Journal says Brizio's genius is giving each car a unique personality. "Most shop-built cars look like shop-built cars, there's a sameness about them," Ganahl explains. "But Roy's cars always stand out, which is why they usually end up featured in the magazines."
Brizio never imagined his business and reputation would reach his current level of success. All he wanted to do was make a living building hot rods and having fun along the way. "I was never in it for the money," he explained from his shop, while putting the final touches on Clapton's '40 Ford in preparation for its debut at last year's Goodguys West Coast National in Pleasanton. " I just wanted to be happy. Whatever success I've had is because I simply love these cars, have some really talented guys in the shop and I care so much about what I do."
Or, to use an expression Reggie Jackson would understand, when it comes to building hot rods, Roy Brizio hits a home run every time.
Reprinted with permission